PRINCIPLAY®
LEARNING BY DOING
Extraordinary Results Through Attention to Work and People
One of our more successful tools is our Principlay® simulations. The simulations are purposely set-up and reflect a flow or a situation at the client. Together with the client we simulate and reflect, test solutions and discuss how to move forward. Utilizing Principlay® our clients will experience solutions and thinking that will induce the transformation further. 
A customized Principlay simulation from SAM gives your organization a quick and deep understanding how thinking, actions and results work together. Complex processes are made simple to understand and new ways of working are explored in a easy-going but challenging manner. You will experience the power of "learning by doing" together with colleagues . Real world issues will be discussed and problems will be solved without the tension of everyday situations.
At SAM we go to great lengths to ensure that each Principlay®  is tailored to highlight your specific issues and situation and the challenges it entails.
Principlay is a training method used to deal with specific problems in a process or in an organization – depending on the needs of the company. The way to solve the problems through mutual agreement clearly shows the potential to solve difficult situations in real time and focus only on the problem itself. Focusing on the process itself leads to small improvement steps with low risk with great impact.
During a Principlay ™ workshop we simulate a real work environment with real work functions, roles and processes. The basis of the game is to use principles as the start for improvement discussions, hence the name Principlay ™. The use of the mindset model in an environment close to reality stimulates the understanding of principle-based improvement work. Problems similar to everyday situations arise in the simulation and can be solved in a structured way using SAM's mindset model, the principles and its methods.
New ways of working within complex processes are explored in a simple but challenging way. You get tangible experience of what works in practice. The simulation emphasizes the power of learning by doing.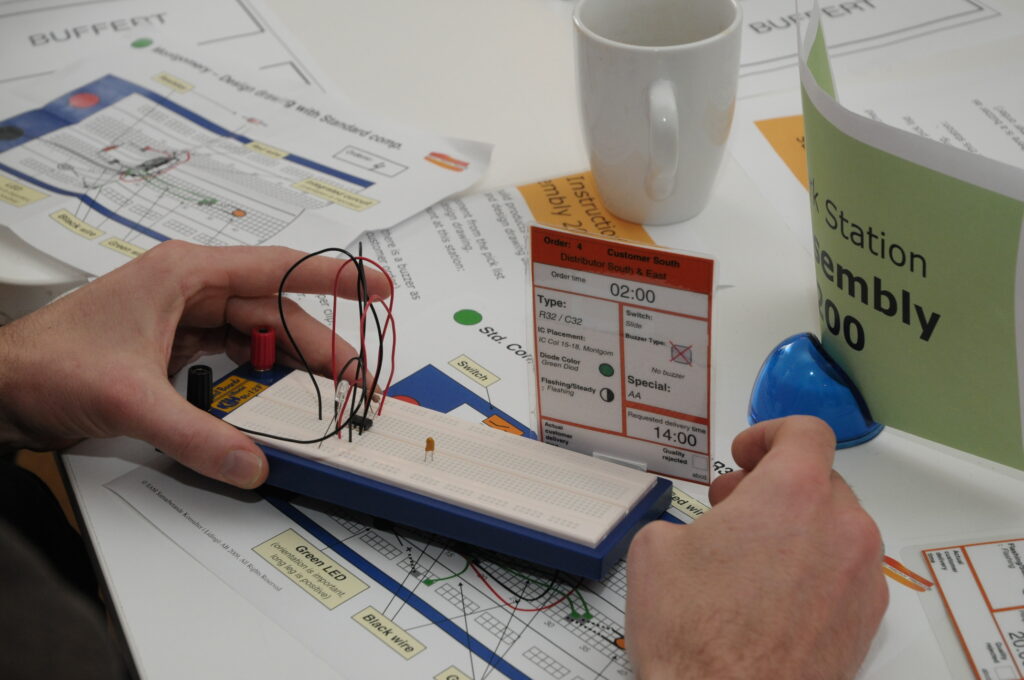 Principlay ™ - The Origin
Principlay ™ was developed by SAM to train companies in both general and specific issues. Various Principlays have been implemented in custom programs at some of the most well-known companies in Sweden and internationally. Over 30 customized simulations have been developed over the years, adapted to the current issues and the unique structure of each organization. Over 15,000 participants have participated since the first simulation. 
Principlay ™ - The Workshop
During the day we simulate and reflect, test solutions and discuss how to go forward in a realistic simulation with real product variants in real material and information flows. You do not need any prior knowledge, what you need to know will be taught during the day. 
In your own unique role in the simulation, you experience the impact of changes in a complex flow, where several basic functions of a business are represented; e.g. Production Planning, Purchasing,  Management, Assembly, Delivery, Test & Repair, Marketing, Distribution to the Customer, etc. 
"The strongest memory I have from the journey we have done is the two-day Principlay training we did, which laid out the fundamentals and gave a mutual understanding between all of us in this enterprise. Despite full competition we are now able to deliver results. Now it only takes about a week until we are in the area with full throttle"​