Have you ever had a hard time changing the mind-set or work process at your workplace?
Dare to try in practice – SAM Principle
With our principles in mind, SAM has developed a set of simple yet effective tools that help us challenge how our clients work and perhaps more importantly, how they reflect on their work. Through activity based learning your team is able to try and discuss difficult questions in a "safe bubble."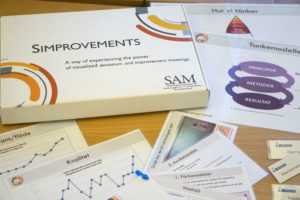 Simprovements – How do we work with continuous improvements when time is limited? How do we handle deviations so that it doesn't hamper our daily operations? These are some of the questions that are raised during a Simprovement session. Participants get the opportunity to act out different improvement/deviation meetings and learn from trying.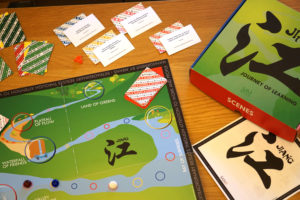 JIANG – Having trouble finding a common ground on Management By Means and it's way of thinking? JIANG is a board game that has been developed especially to help enrich MBM discussions. Set in the Realm of the Great River, game participants work together as they travel up the river by discussing and challenging the way they think about management and leadership. Learn More!
Principlay® – Are you working a complex system in which it is hard to get a holistic overview? Principlay simulations is perhaps SAM's strongest tool when it comes to raising understanding for complicated flows within an organization. There are a few ready-made simulations – such as Principlay® Basic – but in most cases SAM develops a simulation that is tailored after the flows in a specific client's organization. Together with the client we simulate and reflect, test solutions and discuss how to move forward. Utilizing Principlay our clients experience different solutions and ways of thinking that induce further transformation. Learn More!

Curious about our tools? Read all about them here!